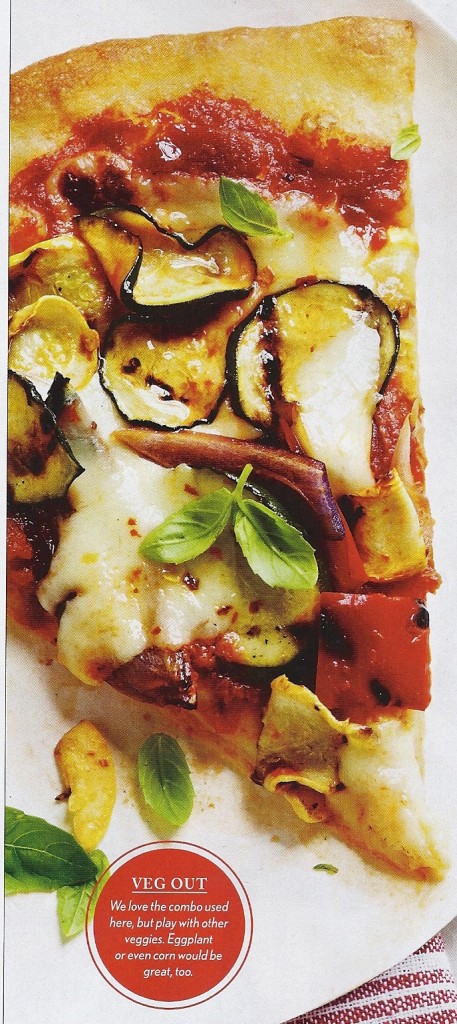 Hands-on Time: 50 min.
Total Time: 60 min.
Ingredients
1 pound refrigerated fresh pizza dough
1 red bell pepper, seeded & quartered
1 (4-ounce) zucchini cut into 1/4-inch thick diagonal slices
1 (4-ounce) yellow squash, cut into 1/4-inch thick diagonal slices
1 small red onion (about 7 ounces), cut into 12 wedges
2 tablespoons olive oil, divided
Cooking spray
1 tablespoon yellow cornmeal
1/2 cup lower-sodium marinara sauce
1/2 teaspoon kosher salt
1/4 crushed red pepper
6 ounces fresh mozzarella cheese, thinly sliced and torn into pieces
Preparation
1. Preheat grill to medium-high heat
2. Remove dough from refrigerator. Let stand at room temperature, covered, for 30 minutes.
3. Place a pizza stone or heavy baking sheet in oven.  Preheat oven to 500 degrees (keep pizza stone or baking sheet in oven as it preheats).
4. Flatten bell pepper pices with hand.  Arrange all the vegetables in a single layer on a large cutting board or baking sheet; brush both sides with 1 1/2 tablespoons oil.  Arrange onion wedges on skewers, if desired.  Arrange vegetables on grill rack coated with cooking spray, and grill for 3 minutes on each side or until crisp-tender and grill marks appear.  Remove from grill.  Coarsely chop bell pepper.
5. Roll dough into a 14-inch circle on a lightly surface, and pierce entire surface liberally with a fork.  Carefully remove pizza stone from oven.  Sprinkle cornmeal over pizza stone; place dough on pizza stone.  Bake at 500 degrees for 5 minutes.  Remove the partially baked crust from oven.  Spread sauce over crust, leaving a 1/2-inch border.  Arrange the vegetables over dough, and sprinkle evenly with salt and crushed red pepper.  Top evenly with cheese.  Carefully return pizza to pizza stone.  Bake at 500 degrees for an additional 12 minutes or until the crust and cheese are browned.  Brush edge of dough with remaining 1 1/2 teaspoons olive oil.  Cut into 6 large slices.
Serves 6
Cooking Light, 2012