When I was growing up, this was the meal that I requested for my birthday for a number of years.  I LOVED it!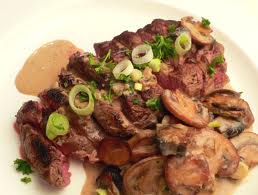 Ingredients:
Sauce
1/2 cup fresh mushrooms, thinly sliced
2 tablespoons onion, mincded
1 clove garlic, crushed
1/8 teaspoon salt
1 teaspoon lemon juice
1 teaspoon Worcestershire sauce
1/4 cup butter
2 tablespoons fresh parsley, snipped
Meat
2 tablespoons butter
1 pound beef tenderloin, cut into thin slices
Preparation:
Cook and stir mushrooms, onion, garlic, salt, lemon juice and Worcestershire sauce in 1/4 cup butter until mushrooms are tender.  Keep sauce on very low heat to keep warm.  Stir in parsley when ready to serve.
Melt 2 tablespoons butter in skillet; turning once, cook tenderloin slices over medium-high heat to medium doneness, about 3-4 minutes on each side.  Serve with mushroom sauce.  Enjoy!