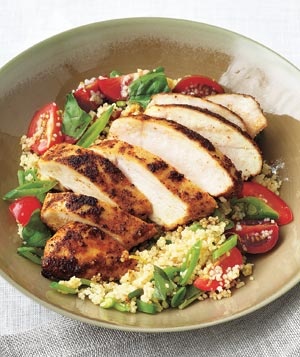 Ingredients:
3  tablespoons  olive oil
4 boneless, skinless chicken breasts (6 ounces each)
1  teaspoon  paprika
2  teaspoons  ground cumin
kosher salt and black pepper
3?4  cup couscous
3/4  pound cherry or grape tomatoes, quartered
1/4  pound snap peas, thinly sliced crosswise (about 1 cup)
1/2  cup  torn fresh basil
1/2  teaspoongrated lemon zest plus 2 tablespoons fresh lemon juice
Preparation:
Heat 1 tablespoon of the oil in a large skillet over medium heat. Season the chicken with the paprika, cumin, ½ teaspoon salt, and ¼ teaspoon pepper.
Cook the chicken until golden brown and cooked through, 6 to 7 minutes per side. Transfer to a cutting board.
Meanwhile, place the couscous in a large bowl. Add 1 cup hot tap water, cover, and let sit for 5 minutes. Fluff with a fork.
Add the tomatoes, snap peas, basil, lemon zest and juice, remaining oil, ½ teaspoon salt, and ¼ teaspoon pepper to couscous. Toss to combine.
Slice the chicken and serve with the couscous.
Serves 4, Hands-on time: 10 minutes, Total time: 25 minutes
realsimple.com