Our family loves anything Mexican food wise.  One of our favorite appetizers to make is the seven layer dip.  It's delicious and ALWAYS is a crowd pleaser!
Ingredients:
21 ounces jalapeno bean dip
MASH:
3 medium avocados
2 tablespoons lemon juice
1/2 teaspoon salt
1/4 teaspoon pepper
MIDDLE LAYER (Mix together):
1 cup sour cream
1/2 cup mayonnaise
1 package taco seasoning mix
TOP LAYER:
1 bunch green onions with tops
3 medium tomatoes, cored, seeded & diced
7 ounces olives, sliced
8 ounces sharp cheddar cheese, shredded
Order of Layers:
Bean dip, avocado mash, sour cream mixture, onions, tomatoes, olives and cover with cheese.  Serve with your favorite tortilla chips.  A fun variation, although a bit more time-consuming, make mini individual seven layer dips.  This might help it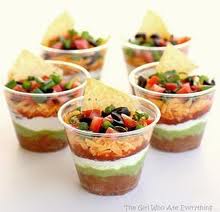 last longer! 😉  Enjoy!