This is one of our family's favorite dishes.  We normally triple the batch when making it so we have leftovers.  If you would like to do the same, our trick is to make up all of the tacoritos and then only bake what you're going to eat.  When you're ready for the leftovers, just simply bake so you'll have "fresh" tacoritos.  They're delish & are great re-heated as well.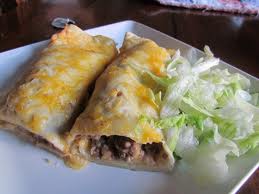 Ingredients:
1 lb ground beef
1 tablespoon chili powder
1 clove garlic, minced
1/2 teaspoon salt
1/2 cup onion, chopped
3 cups prepared white sauce
1/2 teaspoon ground sage
1/2 teaspoon oregano
1/2 teaspoon ground cumin
2 tablespoons chopped, mild green chiles
2 cups cheddar cheese, shredded
2 tomatoes, diced
12 white flour tortillas
1/2 head iceburg lettuce, shredded
Preparation:
Brown ground beef and drain.  Add chili powder, garlic, salt and onion.  Combine white sauce, sage, oregano, cumin and chiles.  Simmer over very low heat until warm (you can heat in the microwave as well).  Reserve 1 cup sauce and 1 cup grated cheese.  Mix remaining sauce and cheese with meat, lettuce and tomatoes.  Place this mixture in tortillas, roll and place seam side down in a flat, greased baking dish.  Top with reserved sauce and cheese.  Cover with foil.  bake at 350 degrees for 15 minutes.  You can uncover and broil for a few minutes if you would like to slightly brown the cheese.  Serve with salsa, guacamole or any other toppings you would like to add.