Every year on the 4th of July, our family gets together to celebrate.  Traditionally, we were always in Breckenridge, CO.  That morning we kicked the day off with Nana's Swedish pancakes with homemade whip cream, blueberries & strawberries accompanied by kielbasa or another breakfast meat.  After breakfast, we would go into Breckenridge for the annual 4th of July parade.  If you want your kids to get lots of candy thrown to them, this is the parade to go to.   We had some great times in Breck.  I hope you enjoy this breakfast tradition of our family as much as we do.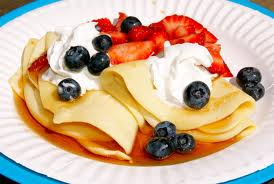 Ingredients for Pancakes:
6 eggs, beaten
1/2 teaspoon salt
1/3 cup sugar
1/3 cup oil
2 cups flour
3 cups milk
fresh strawberries/blueberries/raspberries, washed
Ingredients for Whipped Cream:
1 cup heavy cream
1 teaspoon vanilla
1 tablespoon confectioner's sugar
Preparation:
Beat the eggs, add milk and the rest of the ingredients.  Add the flour slowly.  Get a griddle nice and hot.  Using a large serving spoon, take a spoonful of pancake batter & poor it onto the griddle.  Gently take the back of your spoon and spread out the batter in a circular motion.  When you see the pancake start to bubble, it's time to flip it over.  Once flipped, cook for just a few more moments.  The first pancake in our family has always gone to the dog.  I'm not sure exactly what's wrong with it or why, but the first one is never served.  After that though, you're good to go.  Enjoy your pancakes however you would like them; traditionally with syrup and butter, with homemade whip cream & fresh berries or with melted butter & powdered sugar to suggest a few styles.
To make the whipped cream, in a large bowl, whip the cream until just before it forms stiff peaks.  Add in the vanilla and confectioners' sugar and continue to beat until stiff peaks form.
Serve pancakes with whatever breakfast meat you prefer.  We often have kielbasa on the grill.  There's just something about cooking it on the grill that makes it taste so much better.
Nana (Gladys) Kelly