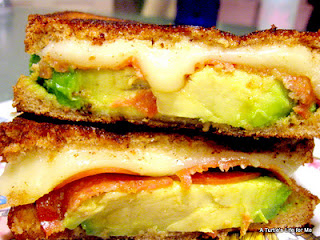 Ingredients:
4 slices french bread (sourdough would be great too)
4 slices monterey jack cheese (slice as thick/thin as you would like)
1 ripe avocado – pitted and sliced
tomato – sliced
bacon – already cooked (you could use any meat here, or leave it off)
salt and pepper to taste
butter
Preparation:
Spread some butter on all 4 slices of bread.  With the buttered side facing out, load up two of your slices with the cheese, avocado, tomato and bacon.  Place the other slice of bread on top, again with the buttered side out.  Add your sandwiches to a heated skillet, the buttered sides should be facing outward.  Toast for 2-3 minutes on low to medium heat or until the bread is browned.  CAREFULLY flip over (using 2 spatulas is helpful as the avocado can be slippery) and toast for an additional 2-3 minutes or until the bread is browned.  Serve warm.  Your favorite soup would be a great side to go with this dish.  Enjoy!
Aturtleslifeforme.com