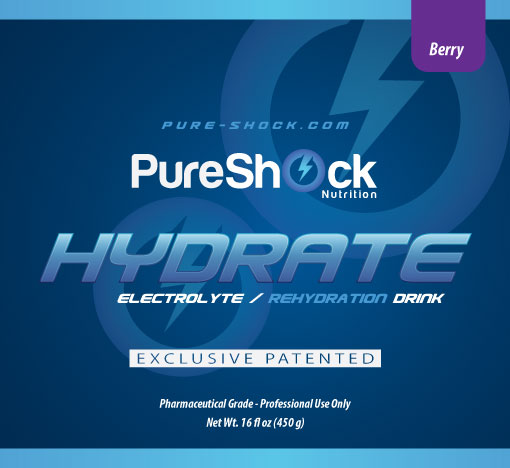 Promotes Hydration, Endurance and Recovery
Pure Shock Hydrate – Electrolyte/Rehyration Powdered Drink Mix
Protects Against Dehydration
Reduces Lactic Acid
Promotes Lasting Natural Energy
Helps to Maintain Muscle Fuel Supply
NON GMO
Pure Shock Hydrate is an innovative formula in the form of a berry flavored powdered drink mix. It contains a blend of ingredients that protects against dehydration, reduces lactic acid levels, promotes lasting natural energy, and maintains muscle fuel supply. It's unique formula is NON-GMO and contains: Carbogen, a patented plant-derived enzyme that has been shown to decrease lactic acid levels by as much as 275% within 20 minutes of consumption and also helps to maintain muscle glycogen levels; Trimethylglycine (TMG), which protects the cells against dehydration and works synergistically with eletrolytes for complete hydration; Slippery Elm for its protective benefits on the gastrointestinal tract and its ability to aid in preventing dehydration; Magnesium, which is in 80% of the body's enzymes, the most important of which help produce, transport, store and utilize energy. Pure Shock Hydrate aims to promote hydration, endurance and recovery of the body.
Directions:
Dissolve one sachet of PureShock Hydrate Electrolyte/Rehydrate Drink into 8 fl ounces of cool, pure water or to taste.
Drink after 45 minutes of exercise or as directed by your healthcare practitioner.
Does not contain:
Wheat, gluten, yeast, soy protein, animal or dairy products, fish, shellfish, peanuts, tree nuts, egg, artificial colors, artificial sweeteners, or artificial preservatives.
Cautions:
Children and pregnant or lactating women should consult their healthcare practitioner prior to use. Do not use if tamper seal is damaged.